vCard Wizard Customer Reviews
"
Excellent program. It did exactly what it was supposed to, which was great. I constantly need it for moving contacts from one address book to another. It's perfect and easy to use.
"

About vCard Wizard
vCard Wizard Contacts Converter is a Free Windows app. It allows users to transfer Contacts between various sources easily. Transfer Contacts to CSV and VCF files. Import or export Exchange, Office 365, Outlook, Gmail, and iCloud account Contacts. Merge multiple Contact sources into a single file or online Address book. It supports all Microsoft Outlook versions. vCard Wizard is one of the most popular converters, used by more than a million customers.
Features
Simple conversion of the whole Contacts folder to one or multiple files. Install and Export selected Contacts only. Convert Contacts files to CSV file, Excel sheet, VCF or vCard. Get converted Contacts to Exchange, Office 365, Outlook, Hotmail, Gmail, or iCloud. Merge Duplicates automatically or manage them during load. The converted Contacts will contain all the original fields, including photo and pictures. It is one of the most popular tools among Freeware Contact Converters.
Import and Export iCloud Contacts
Load Contacts from iCloud and take them to multiple devices and sources. Transfer contacts from iCloud Contacts, iPhone, iPad, Macbook and Mac Computers. You can easily copy Android contacts and put them to iPhone. Upload contacts to iCloud from another Apple ID.
Advanced Mapping Wizard to map CSV files and review before exporting. Change the mapping based on the source you are trying to remap. Use Default mapping profiles or create your own. Share multiple business cards as one file. The Free version of vCard Wizard allows you to Import or Export up to 5 contacts at once. Saving bulk contacts into one vCard file is not available in the Free version. To remove the Free version limitations please purchase full PRO or PLUS license.
vCard Wizard Freeware Add in works with all Outlook versions. The latest Microsoft Outlook 2019, Outlook 2016, Outlook 2013, 2010, 2007, and 2003. Compatible with Windows 7,10,11 as well as Microsoft Exchange and Public folders.
The safety of your information is guaranteed
We do not store or share any information about your contacts. Users' data is processed on their PCs and transferred to their user accounts.
Enjoy our 14-Days No Risk Money Back Guarantee. If you are not satisfied for any reason, you will get your money back.
Export a single contact, multiple selected contacts, or the whole Outlook Contacts folder. Converting all your Outlook email Contacts to VCF file is easy. Microsoft Outlook allows you to change to vCard format just one contact at a time. Extract all your Microsoft Outlook or OWA Contacts and open them in a single file. Add Contacts to default Outlook folder or make a new one.
Transfer all or only selected Contacts. Download Contacts group from any smartphone. Samsung phone, Samsung Galaxy, Oppo phone, Huawei, Xiaomi Mi phone, LG, Vivo phone. Combine Contact folders from multiple sources. Move Contacts with just one click using vCard mover, importer or exporter. Switch Contacts from Android phone to iPhone. Easily manage downloading Contacts between cell phones. Pass your Contacts with photos to the new device before switching phones.
Easily Convert Contacts to CSV or XLSX. Free Contacts Exporter for VCF files, Exchange, Outlook, Excel spreadsheet. Migrate or send Contacts to Google Gmail, iCloud, or Windows Live mail. Export contacts from large CSV or XLS files.
Merge multiple Contact Sources
Combine and filter Contact files with online Address book. Consolidate your mobile, offline desktop and Cloud or webmail Contacts. Connect old smartphone Contacts and bring them to a new one.
Import Nokia Contacts
Moving contacts from Nokia to Outlook, Exchange, Gmail, iCloud, etc. is easy. Copying contacts from Nokia phones is easy using CSV format file. Adding contacts to your phone is easy. Shift your contacts from one account to another using the import/export feature. Swap contacts between your address books.
Transfer Exchange and Office 365 Contacts
Export Contacts list from Exchange or MS Office to files, iCloud, and Gmail. Import Contacts from any different Address books to Microsoft Exchange or Outlook 365.
Import and Export Google Contacts
Upload contacts from and to multiple devices and sources. Importing Contacts and numbers to Android phones, Gmail Contacts, Google Contacts is easy. Getting phone numbers from My Contacts to another Google account is simple. Pull up Google Contacts and setup them in any other source.
Use vCard Wizard as VCF maker before transferring your contacts. Use our vCard builder on your desktop computer or laptop to create files quickly and easily. All vCard file versions, including v2.1, v3.0 and v4.0 are supported. All types of encoding, such as UTF-8, and other languages are supported in our vCard creator.
MORE FEATURES
How to Convert CSV to Contacts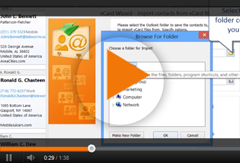 Just follow these simple steps:
Download, install, and launch vCard Wizard on your PC

Select CSV as a source you are going to transfer Contacts from. Click Next

Select the Destination sources you are going to transfer Contacts to. Click Next
In just a few seconds, your CSV Contacts will be transferred to the selected Destination source.
About 4Team Corporation
the company behind vCard Wizard
We are a Microsoft Gold Certified Partner and independent software development company. We create add-ins for MS Outlook and add-ons for Microsoft Office. We have been providing business solutions to customers around the world since 1999. As a customer-focused company, we are immensely proud to provide award-winning support.
Our satisfied customers
Customers all over the world are successfully using 4Team Corporation services for personal and business needs